Texas voter ID law blocked by federal judge
AUSTIN, Texas — A federal judge on Thursday likened Texas' tough voter ID rules to a poll tax meant to suppress minority voters and blocked Texas from enforcing it just weeks ahead of next month's election, knocking down a law that the U.S. Justice Department condemned in court as deliberately discriminatory.

The ruling by U.S. District Judge Nelva Gonzales Ramos of Corpus Christi is a defeat for Republican-backed photo ID measures that have swept the U.S. in recent years and have mostly been upheld in court. And it wasn't the only one. The U.S. Supreme Court also blocked Wisconsin from implementing a law requiring voters to present photo IDs.

Gonzales Ramos, an appointee of President Barack Obama, never signaled during a two-week trial in September that she intended to rule on the Texas law — rebuked as the toughest of its kind in the U.S. — before Election Day. But the timing could spare an estimated 13.6 million registered Texas voters from needing one of seven kinds of photos identification to cast a ballot.

The Justice Department says more than 600,000 of those voters, mostly blacks and Hispanics, currently lack any eligible ID to vote. SOURCE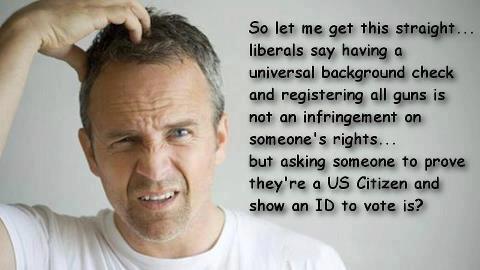 This BS has gone WAY past the point of ridiculous, this is nothing more than an attempt by the Democrats and an Obama appointed Liberal, Hispanic, female judge to legislate from the bench and force the will of the Democratic Party on the entire state of Texas.
In a post on Facebook Texas AG Greg Abbott said, "Voter fraud is real and must be stopped. I'm appealing the ruling by an Obama appointee blocking our voter ID law."
I have to agree with Abbott, there is voter fraud and there has been in for years, this voter I.D. law is not designed to disenfranchise ANYONE, it is NOT some move designed to keep a person of ANY color from voting, all it does is help the elections workers verify that the person voting is entitled to vote and that they are who they say they are.
I have MY Texas I.D. and I have no issue with using it at the polls. Here in Rowlett we have voted at the same location for 10 years now and the elections people generally know most of us when they see us, but since the voter I.D. law has been in place most of the people that I see at the polls have their voter registration card and I.D. in hand as they walk in, most folks KNOW it's a requirement and from my observation, most have NO issue with presenting their I.D.
No one that I know considers having a pictured I.D. to be an issue to begin with, especially a RACIAL issue as the DOJ, Eric Holder and this Hispanic judge are trying to make it out to be and I talk to a lot of my fellow citizens here in Rowlett and across Texas. We like the idea of having straight and honest elections and voter I.D. cards go a long ways in insuring that we do have honest elections. Continue reading →